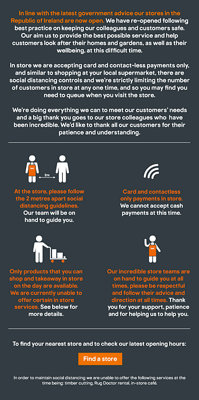 Help us to help you – socially distanced shopping at B&Q
Here's some of the strict social distancing measures we've put in place to help customers and colleagues to keep safe.
Planning a visit? We'd love to see you, but when visiting a store please remember:
Groups in store. A maximum of four people from a household can shop together in store, children under 16 supervised by a parent or guardian are also permitted as part of these groups.
Have your shopping list ready. At the entrance, our helpful colleagues will ask you what you need and direct you to where your required items are within the store.
Be respectful of colleagues and other shoppers. We have two metre floor markers throughout the store. Let's all give each other space.